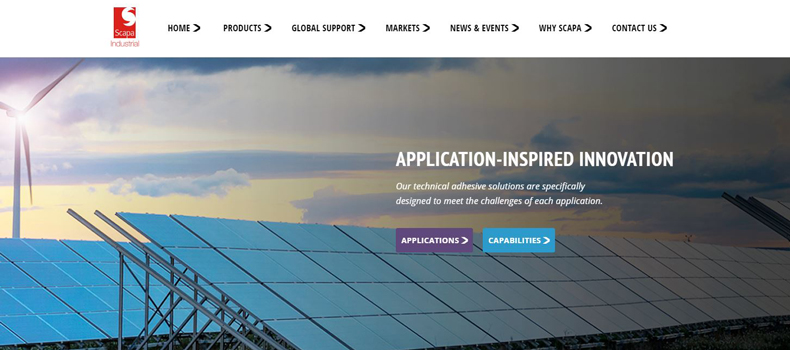 Scapa Launches New Industrial Business Unit Focused Website
Industrial
Press Releases
Website
Scapa Group plc, a global supplier of bonding solutions and manufacturer of adhesive-based products for the Healthcare and Industrial markets, is proud to launch its new Scapa Industrial website, www.ScapaIndustrial.com.
The newly designed website will provide customers with comprehensive information on the Scapa Industrial product range, technical specifications and R&D capabilities across its broad portfolio of specialist industrial tapes and adhesive solutions. Each of its focused industrial markets, Automotive, Cable, Construction and Speciality, will be fully represented, along with many more of the submarkets and industries that Scapa Industrial services. Customers can also access Scapa's dedicated consumer brand websites, Barnier and Renfrew Pro Tape from the main portal.
In addition to a fully searchable and cross-referencing database of Scapa Industrial products, recommended applications and market segments, visitors will be able to access technical data sheets, market and product literature, product certifications, training videos and many other customer and technical support resources, bringing Scapa Industrial's industry expert knowledge closer to their customers.
On the launch of the new website, Managing Director of Scapa Industrial, Troy Asberry, commented, "Our aim with the new site is to ensure that our customers and prospective customers are able to find the information they need to begin a partnership with Scapa to address their specialist tape and adhesive system requirements. Our full range of Scapa Industrial products, R&D and manufacturing capabilities are clearly showcased in one easily navigable website and we have a full customer support process ready to bring customer concepts into reality."
To learn more about Scapa Industrial, visit the website at www.ScapaIndustrial.com.


About Scapa Group, plc
Scapa Group plc is a global supplier of bonding solutions and manufacturer of adhesive-based products for the Healthcare and Industrial markets. At Scapa, we base our approach on a deep understanding of our core markets. This understanding allows us to anticipate tomorrow's customer needs and to enable our customers to succeed in dynamic markets. Further information on the Scapa global product portfolio of bonding products and adhesive components can be found on www.scapa.com